THE SIMPLE TRICK THAT MAKES YOUR RELATIONSHIP INCREDIBLY HAPPY
In today's blog post I'm going to share a powerful tip for anyone that wants to have a loving, committed relationship, or who wants to make the relationship they're in way more fun, easy, supportive and passionate.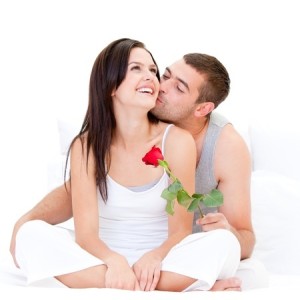 This tip is a powerful force in making either a man or a woman fall more deeply in love with you…. It supplies a powerful motivation to make them want to commit to you…
And if you are in a committed relationship, it makes that relationship stronger, more fun, more nurturing, and more passionate.
So what is this super-magic bullet of love?
==> Let your partner make you happy.
Be charmed by their charm, seduced by their seduction, smile at their kindness, laugh with their silliness, be willing to play when they are playful, impressed when they are impressive.  Allow yourself to be pleased when they are trying to please you.
Don't make this part of the relationship hard for him/her.
And before you dismiss this, hear me out:
We stubbornly resist allowing our partner to make us happy because…
– It feels vulnerable
– We want them to work harder to PROVE themselves
– We don't deserve to "just be happy" without a better reason
– We don't deserve to be happy because the world is hard place
– We fear being disappointed
– We don't want to be happy right now because I'm in a bad mood so bugger off
– We won't let them make us make us happy because you're going to have to do a lot better than THAT to make me happy after all of that other shit you did that pissed me off that I'm not about to forget about!
– And probably a million other reasons that you and your therapist can go to work on…
But the bottom line is, people who are good at receiving happiness and appreciating the smallest of sweet gestures from their partner are very, very easy to love.
It's FUN to be nice to people who send back enthusiastic, unguarded, and innocent gratitude and happiness.
Don't over-think this. It's grade-school simple:
I do something nice for my wife, she smiles and giggles, I feel great and want to do it again.
That's it. All day long, and every single day.
AND… it makes it twice as likely that she'll get the other things that she wants that might have been difficult for her to request, or difficult for me to hear previously.
We are too guarded by far in relationships.
Listen: Guarding against disease by vaccinating, washing hands, minding food safety, and getting enough sleep actually CAN reduce our chances of getting disease.
But guarding against heart-break actually INCREASES our odds of being left broken-hearted.
Living with an open heart is scary. It feels unsafe. But it's actually safer, it feels better, and contrary to popular belief, it does not make broken hearts hurt more or feel more humiliating.
In fact, it's the only game in town worth playing.
Living with an open heart is the big-leagues of having a satisfying life, but that's for another blog post.
Every single one of us has a limit on how much love we believe we deserve… it's just a question of where that line is, and how hard we're willing to work to expand that capacity.
Today, just try this…
It's so easy to do and yields such enormous results:
Allow your lover to make you happy.
…But what if my partner has no clue how to make me happy?
What if he doesn't even seem to try?
What if we can't even talk about deeper emotional issues?
Is it really possible to get more intimacy, passion, and depth from relationships? Are there really men that are even willing to co-create that with me?
Most women are surprised to hear that the answer is "YES."
2) Teaching your man how to please you romantically, physically, and emotionally– even just ASKING for the things you want– can be incredibly challenging, confronting, and triggering. And I understand that this one simple trick alone might not be able to give you the fantasy relationship of deep emotional connection, intimacy, and passion you probably crave…
But nearly every woman goes about this in a way that men find difficult, if not impossible to receive.
It doesn't have to be that hard.

Believe it or not, in my 10 years of work with men, I've discovered that most of them actually want the same kinds of things that women want, but they have social and emotional blocks that prevent them from ever seeing it.
In fact, I have a simple 3-step framework that I've successfully used to make it easy to get the passion, connection, pleasure, and honesty from a man that you may have thought was impossible.It will make a man want to invest his attention and effort into YOU, and it will keep the passion nourishingly alive across the years.
Click here read the 3 Intimacy Secrets that will make you a "relationship genius!" >>